en10ergy Limited is a social enterprise (a Registered Society under the FCA Mutuals Registration) set up by the Muswell Hill Sustainability Group and is a member of Community Energy London and Community Energy England. We have two main aims:
to promote and invest in local renewable energy
to encourage and facilitate the reduction in carbon emissions and waste by households, businesses and community buildings in the Muswell Hill. Hornsey and Wood Green areas.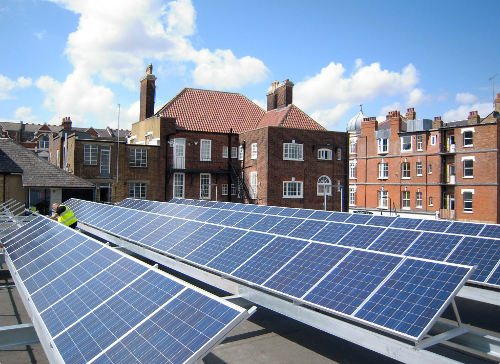 en10ergy is like a trading company in that its members are its shareholders and they are not liable for its debts. On the other hand its activities are not carried on for the benefit of the shareholders, but for the benefit of the community. We have over 100 shareholders, mostly based in the locality.
We generate income through electricity sales and the Feed In Tariff from our solar photovoltaic panels on M & S on Muswell Hill Broadway, the Methodist Church in Pages Lane, Woodside School in Wood Green, and Fortismere School in Muswell Hill.
New solar installation for Fortismere School
Fortismere School project 2019, completed
Our solar panel installations
Solar Photovoltaic (PV) panels use the sun's energy to generate electricity that can be fed back into the Grid.
We installed solar pv panels on the roof of Marks and Spencers on Muswell Hill Broadway in July 2010. Marks and Spencers head office supported this as part of their Plan A programme. This installation consists of 100 solar panels, capable of a peak output of 45 kiloWatts (kWp).
A display in the front window of the shop shows how much electricity is being generated each day and how much has been generated since the panels were installed.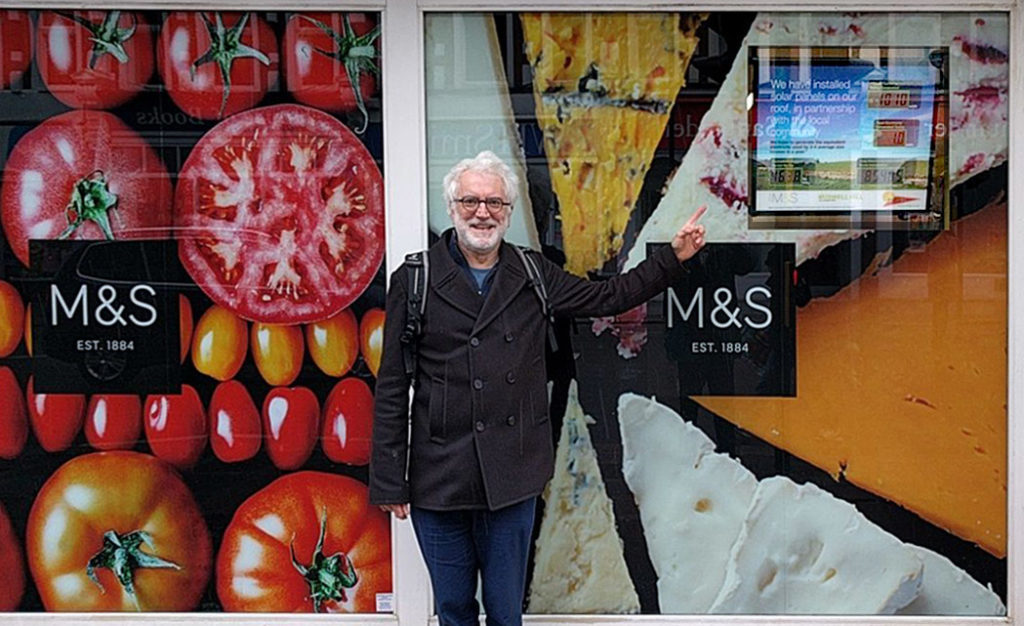 We also installed 36 solar panels on the roof of the Muswell Hill Methodist Church on Pages Lane, generating 20 kWp, and completed in April 2011.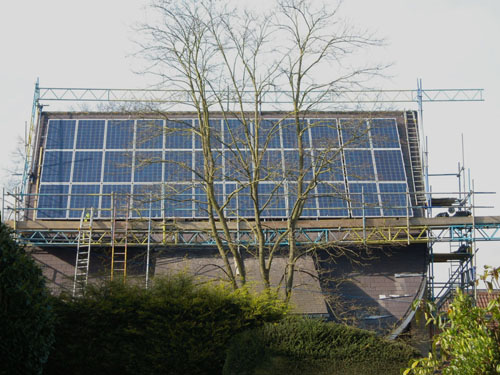 Both projects were funded by the (then) Department of Energy and Climate Change (DECC) through their Low Carbon Communities Challenge – a grant of £165,000 – and Haringey Council also provided £10,000 through a Green Innovation Award. Just under £6,000 was also raised from local residents through a community share offer. These projects generate revenue through the 'feed-in' tariff that the Government pays for micro-generated electricity. M&S also pay en10ergy for the electricity it uses in its bakery.
In November 2017 we installed around 150 solar panels on the roof of Woodside School in Wood Green. We are looking to install a similar-sized system at Fortismere School, Muswell Hill. The schools buy the electricity generated on their roofs from en10ergy at an agreed price below the rate charged by commercial generators, which gives them considerable savings. Because both government grants and the FIT rate have been much reduced since our previous installations, these installations have been funded by an offer of Community Shares, subscribed mainly by local people. We have also received welcome support from the London Community Energy Fund, set up by the Mayor of London.
We're using the revenue from all these projects to fund further carbon emission reduction work in Haringey, in co-operation with Haringey Council.
New project at Fortismere School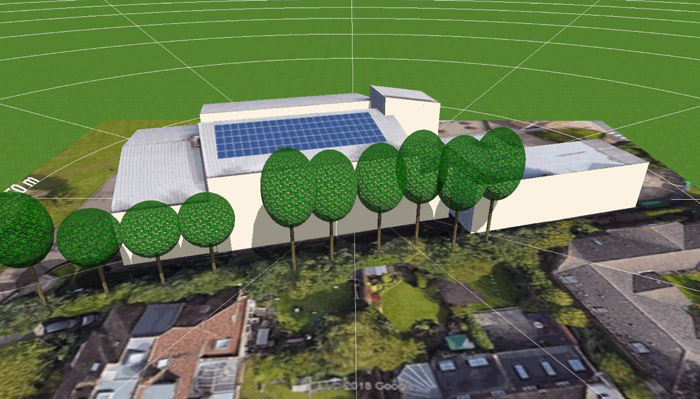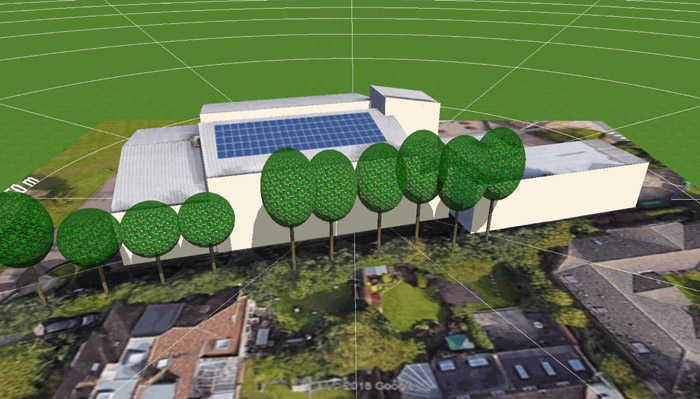 en10ergy and Fortismere School, Muswell Hill, have negotiated a deal to install 105 photovoltaic panels on the roof of the science block on Twyford Avenue. The installation is capable of producing up to 30 kiloWatts at peak performance, and is estimated to contribute about 25,500 kiloWatt hours per year to the schools electricity supply. It will also reduce carbon emissions by approximately 8.9 tonnes a year over the 20-year operating lifetime of the project.
The overall cost of the work to en10ergy will be about £34,000. We have already raised around £20,000 of this through our 2017 share offer which is now being allocated to this project. We have also received very welcome support from the London Community Energy Fund, set up be the Mayor of London, and from Haringey Council, in the preparation of the scheme.
To complete the project, we will shortly invite parents and staff at Fortismere to join the investment, which will broadly pay back capital over 12 years and offer a 3% return on remaining balances. We will offer existing investors the opportunity to provide investment if we still need more.
The panels will be installed over the upcoming Easter holidays by the electrical engineering firm Campbell & Kennedy.
Fortismere School project 2019, completed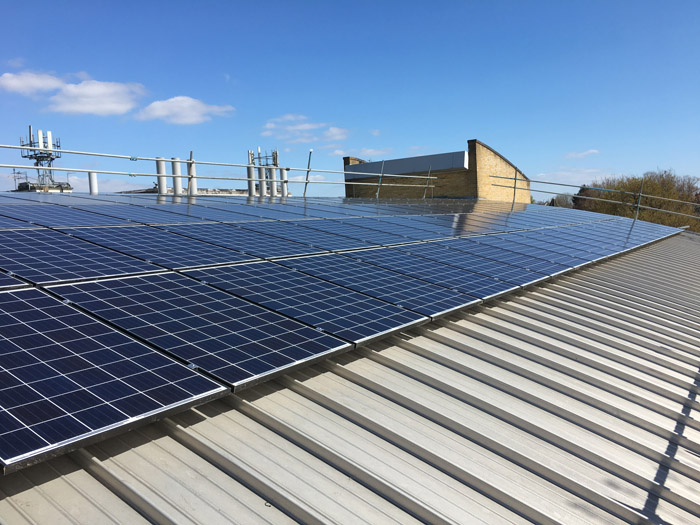 In the spring of 2019 en10ergy opened a new share offer to raise £9000 for the completion of the Fortismere pv installation project, on the school science building at Twyford Avenue. The new solar array was installed in April, and is now generating power for the school. The main cost of this project was covered by funds raised from our 2017 share offer, which was principally for the installation at Woodside High School. Not all the funds were used there as the scale of that project had to be reduced for technical reasons. (In its final form it generates up to 50 kiloWatts). The remainder of the fund provided the basis for our new 30 kiloWatt installation at Fortismere, with a small additional share offer to cover shortfall.
As with the Woodside share off, these shares will repay their capital with interest at 3% over 12 years, but the interest offered is 3% rather than 4%, due to changes in the FiT rate and mains electricity tariffs.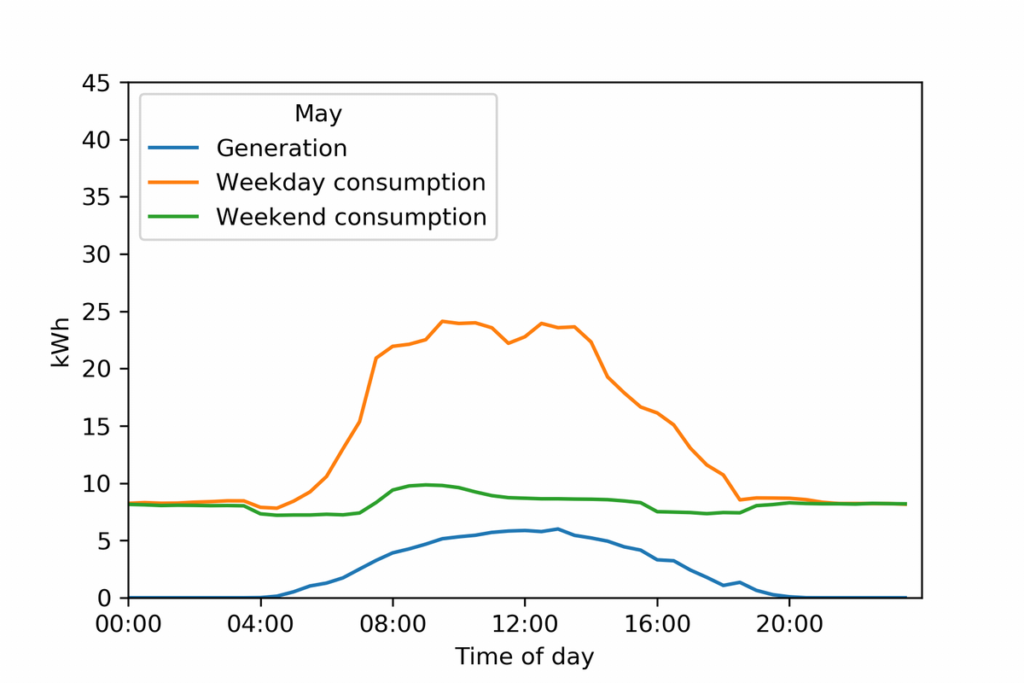 The new array was inaugurated in April in the presence of Catherine West MP, Cllr Kirstin Hearn – Haringey cabinet member for environment, Nicky Gavron – chair of London Assembly planning committee, who have all been supporters of the project.