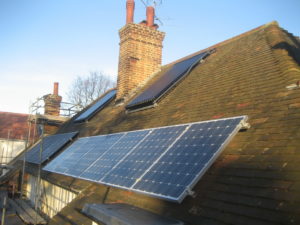 Solar Photovoltaic (PV) panels use the sun's energy to generate electricity that can be fed back into the Grid.
We installed solar pv panels on the roof of Marks and Spencers on Muswell Hill Broadway in July 2010. Marks and Spencers head office supported this as part of their Plan A programme. We also installed solar panels on the roof of the Muswell Hill Methodist Church on Colney Hatch Lane, completed in April 2011.
Both these projects were funded by the (then) Department of Energy and Climate Change (DECC) through their Low Carbon Communities Challenge. These projects generate revenue through the 'feed-in' tariff that the Government pays for micro-generated electricity. We're using the revenue to fund further carbon emission reduction work in Muswell Hill.
In November 2017 we installed around 150 solar panels on the roof of Woodside School in Wood Green, funded through a share offer. We are looking to install a similar-sized system in 2018.