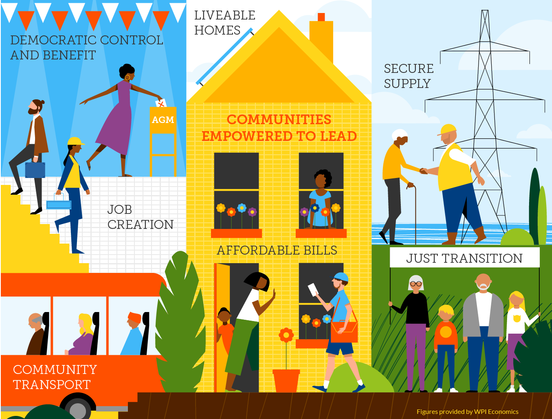 Community Groups are experiencing multiple obstacles rather than Government support when they try to increase local renewable electricity. en10ergy's recent solar-electricity/rain-harvesting project is a good example. The United Nations climate summit in Glasgow, COP 26, set for this November is an opportunity for our government to rectify the situation.
en10ergy was awarded a grant from the GLA's London Community Energy Fund to examine the feasibility of two projects for Muswell HIll: a combined solar energy and rainwater harvesting installation in the car park behind Marks & Spencer's Muswell Hill shop, and a solar powered battery-charging, water-refill and information point.
There was an opportunity here to move beyond simple focus on a small-generator business model and create a joined-up consideration of utilitty provision, which includes not only power and water provision, but the effort to change perceptions through education and public information.
Covid-related problems made matters more difficult, but structure costs and a shrinking solar installation industry (a major installer we worked with at Fortismere School has gone out of business) have turned out to make the project unviable for a small self-financing enterprise.
Such problems are no secret. Parliament's Environmental Audit Committee has recently said that in spite of the Government's 2014 Community Energy Strategy, which suggested that by 2020 community projects could provide 0.5-3GW of energy, growth in community renewables projects has slowed significantly. Until 2017, there was steady growth, largely driven by the Feed-in Tariff. However it's prospective closure to new applications in 2019 was a strong disincentive to development. From 2016 to 2018, new community energy organisations dropped by 81%, and in 2019 new community energy capacity was only 15% of the capacity growth in 2016.
But quite apart from simply increasing capacity, the Government's Committee on Climate Change Net Zero report said: "Much of the success so far in reducing emissions … has happened with minimal change or awareness needed from the public. However, this cannot continue if the UK is to reach net-zero emissions. … Some of the difficult decisions that will be required… will only be possible if people are engaged in a societal effort to reach net-zero emissions and understand the choices and constraints…There is currently no government strategy to engage the public in the transition to a low-carbon economy. This will need to change."
Community enterprise goes to the heart of this essential rethink. The great strength of community energy for the future, like other community enterprises, is the alternative sense of 'value' in investment that it invokes: focused on the provision of needs as against the mere acquisition of resources.
Community Energy England, the umbrella group representing our sector, has a list of requirements to be part of the UK's objectives at COP26.
A new principle of putting people and communities at the heart of climate policy.
A new Community Energy Strategy with dedicated staff in the Department of Business.
The reinstatement of the Urban Community Energy Fund to enable project development in urban areas.
Some long-term revenue support such as is offered to commercial developers by the Contracts for Difference scheme,
The reinstatement of Social Investment Tax Relief for community energy.
A key role for community energy in Local Area Energy Planning.
Reform of Ofgem to regulate the energy system transition to achieve zero carbon, maximise social benefit and enable community energy.
Reform of the planning system so that the 'purpose of planning' becomes 'to achieve net zero as soon as possible' and planning blocks to onshore wind (which would offer opportunities for community energy) in England are removed.
You can see CEE's current parliamentary briefing document here.
We must have Government action on these issues to escape from the present strait-jacket and increase renewable generation to the levels we need .
image from Community Energy England's Vision 2030