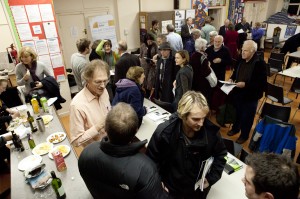 Our Low Carbon Buying Group is a bulk-purchasing scheme which will bring lower prices on the more expensive energy-saving measures and on renewables. To take advantage of 10-20% discounts you just need to be a Muswell Hill Sustainability Group Member (annual subscription £10). Currently the scheme covers Solar Electricity (PV), Solar Thermal, new Boilers and Replacement Windows.
SOLAR
Buy solar panels through our Buying Group! With generous government subsidies, it's a great investment.
Slash your carbon emissions, by generating energy at home
Big, big savings on your energy bills
Tax-free, low-risk income, backed by the UK government for 25 years
Our Low Carbon Buying Group cuts the cost of home solar panels. We're working with Ecodomus Limted, Engensa, Hatch Sustain and Southern Solar who will be offering between 10 and 20% discounts for members of the Low Carbon Buying Group.
Click here to find out more!
BOILERS
Boilers account for around 60% of the carbon emissions in a gas heated home. Their efficiency is rated on a scale A to G- if your boiler was fitted over 15 years ago then it could be a G-rated boiler, which is very inefficient.
We have negotiated with Viessmann, Europe's leading manufacturer of heating technology, to allow participants to install a top quality boiler, with a five year warrantee included, for the cost of a standard boiler. The cost also includes weather compensation controls (which are standard in continental Europe) which increase boiler efficiency by a further 10%.
Click here to find out more!